16 novembre 2008
Daniel Wu in school with his niece and nephews
Not long ago, Daniel Wu and Shu Qi were photographed together

Yesterday, Daniel Wu visits the school of his auntie's 3 children, to participate in a fund-raising, in order to support the expansion of the school's building. He especially donated an oil painting to be auctioned. Daniel Wu has always been close with his nephews and niece, he was asked if he may consider having a baby with his girfriend LisaS. ? He promptly smiled: "Yes, before I turn 40 years-old , but no plans of marriage, if the only reason is because we had a child."

Speaking of which, earlier after being taken with Shu Qi, and Kelly Lin dining out which caused to spread rumors , Daniel Wu said frankly, it did not affect his relationship with his girlfriend. He said, just like with Kelly Lin, his girlfriend knows Shu Qi for so long. He also said that despite of the financial crisis earlier, he isnt worried about it, but admits it affected his girlfriend's modelling job.
Source: http://asianfanatics.net/forum/Daniel-Wu-Wants-To-Have-A-child-With-His-Girlfriend-But-Not-After-Marrying-First-Not-Worried-About-The-Rumors-With-Shu-Qi-talk599890.html
20 octobre 2007
Daniel Wu Surprises & Chow Yun Fat Supports at Miriam's "All About Love" Night 4

Monday was night four of the "All About Love" concerts for Miriam Yeung. Nothing has come easy during these concerts with rumors resurfacing about her and Louis Koo as lovers, rumors saying she started an underground relationship with Ding Ji Guo (丁子高) 2 months ago and rumors alledging that her costumes are copies. Monday night, she carelessly walked down the stairs and hurt her leg.

Two nights ago, while Miriam was concentrating on her singing a voice suddenly kept saying "All About Love..." Miriam initially thought it was Mark Lui or a crew member who forgot to turn off their microphone, but upon hearing the audience roar she turned around to see Daniel Wu on stage and bursted out "Wow! You scared me!" Daniel Wu apologized that even though they've worked together 3 times he hasn't ever heard her sing [live]. Miriam responds, "It's not a big deal, some of my fans think I only act." Liza Wang also showed her support, staying the entire show and afterwards went backstage to show Miriam her support. Chow Yun Fat and his wife did not show up but showed their support via 10+ big binding crabs. Miriam says that with 1 show remaining she doesn't want break her routine and will eat the big binding crabs during the post-concert celebration.

Towards the end of the show, Miriam carelessly turned her leg and fell down the stairs but with her quick reaction she got up and immediately said "Wow, almost pulled off an Eason Chan. Good thing I'm a female. It is okay to fall down as long as you know how to get back up." With that, the audience erupted into applause. Despite hurting her leg, she continued to sing and didn't show that she was hurt.... (suite...)
31 août 2007
Je n'ai plus trop de temps a me consacré a mes blogs. Alors dorénavant je vais me focalisé seulement sur celui-ci et celui de Show Luo Zhi Xiang. Merci de votre compréhension, et oui quand on travaille c'est plus pareil plus le temps pour rien. Mais ne vous inquiété pas, je serais toujours sur mon blog quoi qu'il arrive.
12 juillet 2007
Hollywood will continue its tradition of ripping off popular films from other countries after a studio agreed to remake the Hong Kong romantic comedy, "Love Undercover."

Hong Kong director Joe Ma's 2002 smash is about a young policewoman who is picked for an undercover job.

Her assignment is to get close enough to a gangster's son so that she can plant a microphone at a table where the gangsters make their deals. Complications arise when she finds herself falling in love with the son.

The film, featuring Hong Kong actress Miriam Yeung and actor Daniel Wu, became a trilogy.

Miriam Yeung was delighted by the news.

"It proves again Hong Kong films perform well on the market. And I hope the news will attract more investors," she said.

Director Joe Ma has expressed his hope Hollywood actress Drew Barrymore gets the leading role.

Another big Hollywood remake of Hong Kong hit was crime flick "Departed," based on Hong Kong director Wai Keung Lau's awards-winning film "Infernal Affairs."

"The Departed" won Martin Scorsese the 2006 best director Oscar.
04 juillet 2007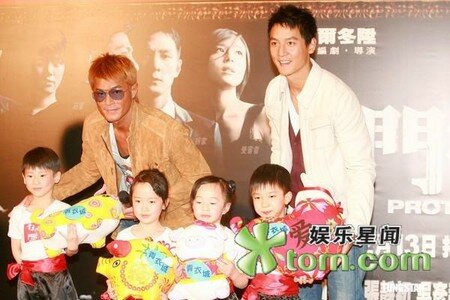 22 juin 2007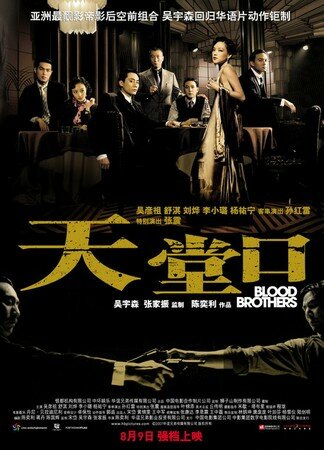 Depuis son retour au pays, John WOO n'arrête pas d'enchaîner les projets entre deux galères sur le tournage de son Battle of Red Cliff. Producteur de jeux vidéos, d'animation japonaise et de tout ce qui bouge semble t-il, le bonhomme, en compagnie de son compére Terence CHANG, dégaîne le porte-feuille comme on dégaîne les fourchettes à la cantine scolaire. Le mec a faim. Ayant retenu la leçon du parfait petit producteur hollywoodien, l'homme semble avoir intégré les recettes qui font le succès du cinéma "iouaisse" et fort de sa notoriété, il cultive son appétit. Blood Brothers, vendu comme une déclinaison années 30 "shangaïen" de son Bullet in the Head, en est la parfaite illustration. Pour l'occasion, WOO lance dans le bain des réalisateurs Alexi TAN et l'entoure d'un cast de qualité (Daniel WU, Liu YE, SHU Qi...) pour porter ce film au look classieux, dont la sortie en Asie est prévue pour août 2007. Si le site officiel est encore en construction, il propose néanmoins deux trailers, dont le second est tout récent.
Site (en construction) & trailers