13 février 2007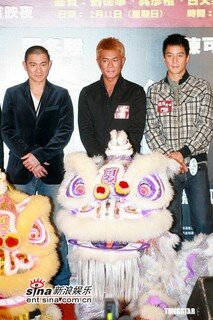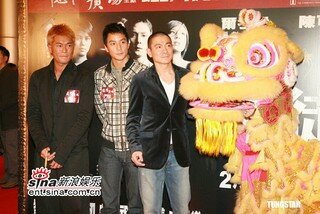 Andy Lau, Louis Koo and Daniel Wu attended the charity premiere of Protege at Kwoloon Tung's Telford Plaza two nights ago. The 3 handsome leads battle each other from the movie till the promotional activity as they show off each of their charisma. Andy was the most popular as his fans filled up the plaza with banners and loud screams, even the member of the Board of Directors of Hong Kong Community Chest, Mrs Nina Lam also gave him a hug.
Before the premiere starts, Andy, Louis and Daniel carried out the fireworks and colouring of the lion head's eyes ceremony.
Other than sending out their Chinese New Year greetings to the audience in advance, they also wrote 'Fu' in calligraphy with three kids. The Pigee Baby Qee that the actors designed were also put on sale with all earnings to be donated to charity.
Louis quipped that it's comical that he didn't get to act opposite Andy throughout the movie until the promotional activities. Andy pointed out that he last collaborated with Louis in Century of the Dragon. When talked about Andy hugging with Mrs Nina, it was found out that a male fan rushed on to the stage to kiss Andy during the Shenzhen promotion 2 days ago. When asked if Andy is angry of the fan's action, he quipped: "Nope, people whom love me could get too excited, at least they would not hurt me. That male fan can be considered as well-manners, it's not too outrages, I still can accept but still feel strange about it."
Andy expressed on stage that he hope that Protege could have a sequel but he said that his character dead in the movie, but the story could have some developments for shooting a sequel. When asked if they could shoot a prequel instead, Andy quipped: "Don't try to 'kun' me."
Andy whom is scared of rats was exposed that when the scene of rats climbing all over Zhang Jingchu decomposed corpse was screened during the premiere, he excuse himself to the gents, he explained: "This is heaven's will that I'm urgent and need to go to the gents, actually I do not know that the scene would have rats, if I'm seated, I would close my eyes." He again stressed that he would not accept any shooting together with rats no matter how high the fees, how huge the cast or any awards nomination.
When asked if he had experience of being scared by rats, Andy said: "Got, Michael Dao once used a black and white rat to scare me, he later got beaten up by me. When I was shooting Days of Being Wild, a rat suddenly appear on the set, I asked the crew member to chase away the rat before I agree to continue shooting. With my fear of rats, I don't dare to go to eat at roadside stalls anymore."
When asked if he's scared of Mickey Mouse, he says: "I don't like it that much, I don't like those if the shape look like a rat, that explains why I didn't study Biology." Andy added that he also has slight fear of cats, because he would imagine how the cat eat the rat.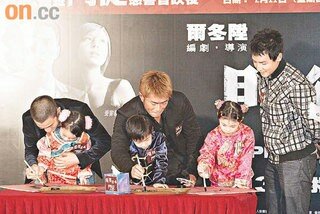 Commentaires sur Andy revealed his fear of rats, Tuesday February 13, 2007 Hong Kong